Wmc2 waterjet machining centre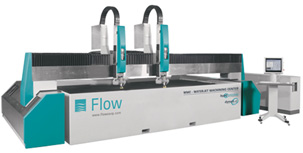 Cutting bed capacity 4 meters x 2 meters
Unparalleled Flexibility in a Single Waterjet
Today, flexibility in manufacturing is key to maintaining a competitive edge. To keep Cross Waterjet Sevices competitive,we have installed the WMC2 twin head machining centre, a flexible twin head waterjet cutting machine that is ideal for high-production, high-speed cutting, or low production runs and the high job variations common to just-in-time manufacturing or sub contract machine shops and contract production environments. Its modular design allows for unique configurations and customization to meet a variety of individual needs.
Superior Waterjet Cutting Performance
The WMC2 delivers all the benefits of an abrasive waterjet cutting system such as the ability to cut parts out of almost any material — metal, stone, plastics, composites, glass, ceramics, or rubber — up to 200mm thick with no heat-affected zone and superior edge quality. All of this is achieved with minimal tooling, fixturing and set up.
Benefits
Highly accurate
Highest possible productivity with the fastest cut speeds and a field proven, reliable designModular design can adapt as your needs change
Ability to machine virtually any material and thickness